From Pixels to Profits: Explore the Major Benefits of Graphic Design for Businesses
As a business owner, your website design, logo, or mobile app are all tools that will help your business stand out from the crowd. Now, multiple free tools are available online where you can download free logos or website designs and edit them to suit you. But what separates your brand from the rest is a unique design. The significant benefits of Graphic Design is that it needs to be so unique and appealing that it makes your customers stop scrolling online and take notice of your brand. This is why graphic design companies play a major role in the digital marketing aspect of businesses.
Whether you're a small startup or an established corporation, understanding the significant advantages of graphic design is vital to staying ahead of the competition and connecting with your target audience meaningfully. Most Businesses leverage this creative discipline to create memorable visual experiences for their customers, ultimately boosting their profit margins. So, if you've ever wondered how companies like Apple or Nike captivate millions with their visuals, it's time to take a closer look at the benefits that graphic design brings to businesses, both big and small.
Must read: The Importance of UI/UX Design and Best Principles.
What is Graphic Designing?
Graphic design is the craft of creating stunning visual content that has a theme or a message in it. Professional graphic designers use visual hierarchy, different page layout techniques, photos, vectors, and typography to help brands create logical designs that intrigue users.
If you think that graphic design is a new concept, you would be wrong. Its origins can be found in Egyptian hieroglyphics that date back to 17,000-year-old paintings. The term graphic designing originated in the 1920s when designers used vibrant colours, images, and typography to attract new users.
But working in the present digital age means having to strike the emotional cords of viewers without seeing them in person. That is why graphic designers need to understand the interplay of colour theory and how it can affect how viewers look at a brand.
Why is Graphic Designing Important for Businesses?
Businesses need to understand the benefits of graphic design, especially when needed for creating efficient marketing materials such as business cards, banners, brochures, leaflets, logos, and more. Graphic designing involves designing and developing logos that help build the brand image. Let's explore four reasons why graphic designing is important for business owners:
1. Because first impressions matter –
Graphic designing is one of the most important tools that can help a business make an overall positive and lasting impression when a potential customer first sees your logo, flyer, poster, or even a social media post; it helps set the tone for the rest of the business relationship.
2. If your designs are consistent, then you are credible –
It does not matter which sector or industry you are a part of; one of the biggest advantages of graphic design is building credibility. When your designer creates consistent content that highlights how your brand helps solve their problems, customers will be drawn to you as an authority figure in your field.
3. Efficiently communicate ideas –
Humans depend heavily on visuals, and by adding designs that are captivating and intriguing can help communicate your complex details simply and easily. One of the best examples of this is using infographics to grow businesses. Planning to post a blog about the benefits your products offer? Why not make an infographic to summarise all the important details?
4. Good creativity can remove competitors –
You can increase your company's competitive edge by creating quality content that is highly personalised to suit your target audience. Make concepts and designs that bring forward new ideas or help solve problems. Graphic designing can help showcase the benefits your products or services can offer, which will help your potential clients remove their pain points.
Related: AI Logo Generator – good or bad news for designers.
What is the Purpose of Graphic Design?
We know that the primary purpose of graphic designing is visual communication. Graphic designing uses multiple aspects, such as images, colours, typography, and more, to represent certain concepts or messages. Designs blend photography, motion graphics, and illustrations to create designs that capture the attention of the viewers and directly convert them into sales.
Visual designs are highly important in web designs as well because they encourage viewers to showcase their thoughts by helping create a connection with the brand. The main purposes of graphic designing are:
1. Laying the foundation for branding strategies –
The basic purpose of graphic designers is to lay the foundation for branding strategies. The first view customers have of your brand is your logo. The logo design can be created by combinations of artistic harmony, studying the impact of colour and shapes on the human psyche, the present market scenario, and the mission and vision of the brand.
2. Beautifying the brand –
Human beings are driven by beauty and are more emotional than practical. While for most businesses, we know the functionality and benefits they offer – we prefer seeing the beauty in the creatives. So, the main purpose of graphic designing is to beautify promotional material or ads to make them look more stylish and attractive.
3. Enhancing user experience –
People do not have the patience to read through large sections of material such as brochures or company websites. Graphic designers can help convert large segments of content into intriguing graphics that can pass on the same information in a subtle way and this could be the best brand marketing strategy for your business. The colourful graphics are highly pleasing to the eyes and help make the flow of content more engaging.
What are the Key Benefits of Graphic Design for Businesses?
As more and more brands are slowly looking for ways to boost their visibility, graphic designers are gaining popularity when it comes to digital marketing. Graphics are some of the most effective tools for a brand, as people connect better with creatives that resonate with them.
Some benefits of graphic design are:
1. Ensuring professional branding –
They say that first impressions are last impressions, and this holds especially for businesses. Graphic designing helps brands establish their professionalism with a quality logo and consistent creatives.
2. Attract and re-engage customers –
Customers recognise your brand based on your logo and creative designs. One of the biggest uses of graphic design is to help clients recognise your brand and keep coming back to you.
3. Make your business stand out –
A company's visuals can help make or break how your clients see you. You need to have strong visuals to help remind customers that you are still here. But try not to be too showy or add too much information to make your creatives cluttered.
4. Connect with your Target Audience on an emotional level –
Another advantage of graphic design is that it helps businesses connect with their target audience's emotions. Graphic designing is a highly cost-effective and engaging way to convey what a brand wants to its audience. But the creative must connect with an emotion such as happiness, nostalgia, or even anger when it comes to designs.
5. Increasing Sales and Conversions –
Graphic design plays a crucial role in increasing sales and conversions for businesses. The visual elements of a brand, such as logos, colours, typography, and overall aesthetics, profoundly impact the perception of a product or service. A well-designed website or marketing collateral can capture the attention of potential customers and create a positive first impression.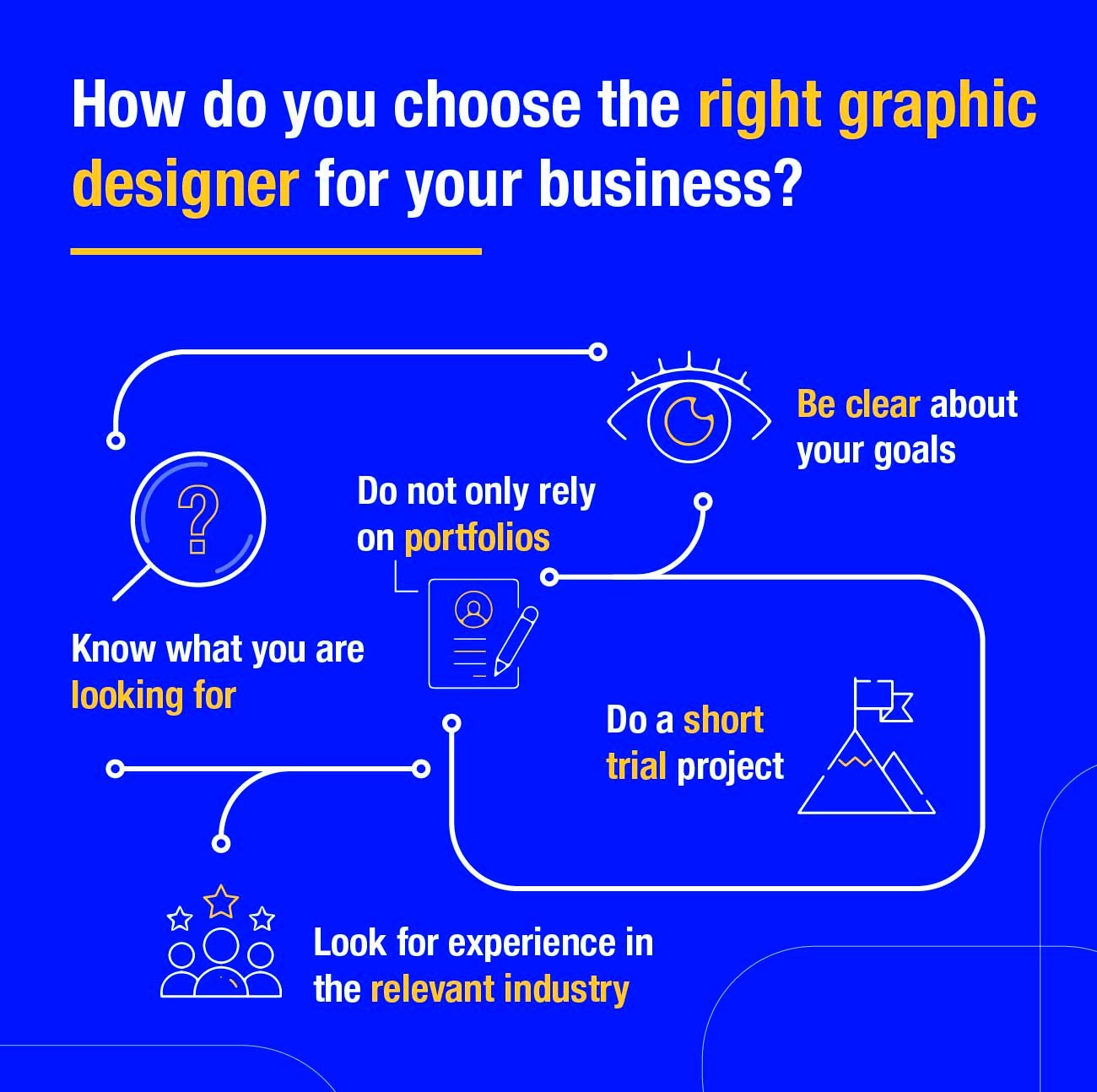 How do you choose the right graphic designer for your business?
Now that you know the benefits of graphic design, it is time to find the best candidate for your brand. If you put out a job opportunity, you will hear from several designers who have the skills to deliver good results. But it can be quite intimidating to find the right one. Here are some tips to help you select the best graphic designer for your business:
1. Know what you are looking for –
Creatives vary from industry to industry, and your designer should possess the necessary skills to make concepts that connect with your brand. For instance, will stock photos work, or will your designer need to take photographs of products as well? Understanding these skills will help you choose the best candidates for your business segment.
2. Be clear about your goals –
No matter which graphic designer you choose, your creative brief must go into the specifications you want. Share any potential problems or deadlines so that your potential candidates know what is expected from them.
3. Do not only rely on portfolios –
It is basic human nature to showcase the best of themselves, especially when applying for a job. Instead of just asking for a portfolio, try to understand the sentiments and inspiration behind their creative choices. That way, you will understand how the candidate thinks and conceptualises.
4. Do a short trial project –
A great way to see how well your potential graphic designer thinks on their feet is by asking them to do a short sample project. Give them a simple brief that could be an easy logo design or a touch-up for a previous creative. But remember that most applicants should be paid for this.
5. Look for experience in the relevant industry –
It is always a big addition when your candidates have experience in your industry. This knowledge will help eliminate most of the learning curve that is required to bring them upto speed with your business segment.
Conclusion
If you are planning to take your brand national or even global, then it is best to hire a professional graphic designer. The designer will help improve your brand visibility and, at the same time, will bring a fresh perspective to your concepts.
Must read: Website vs app
So, why not hire a team of professional graphic designers who will create innovative and interesting graphics for your business? We at VisualBest not only create appealing concepts but also align them with the goals and vision of our clients.
Want innovative creative that matches your brand? Contact us Today!